Last week the inaugural Office 365 Engage conference took place in the small but charming city of Haarlem, The Netherlands. With hotels for speakers and attendees close by, the event took place in the Philharmonie, a venue normally used for concerts and theater performances. This lead to some amazing shots on social media of sessions being held in "Room A" (the theater), "Room B" (with bar) and "Room E" (the concert hall).


"Room A"
With Tony Redmond being the chair for this non-Microsoft event, one of the few big Microsoft-technology related events remaining in Europe, organizer BWW Media Group managed to attract an amazing line-up of speakers. Amongst them were quite a number of Microsoft MVP's, some like Paul Robichaux or Chris Goosen even flying in from overseas. Being sort of a home game to me, it was other speaker's turn to having to cope with jetlag.
Sessions presented were on all things Office 365 related, such as Azure AD, Exchange Online, SharePoint Online, Groups and Teams, and also more dev-oriented sessions on things like the Graph API. Also, more generic topics were also put to the table, like the roadmap and coping with continuous development, GDPR or hybrid strategies.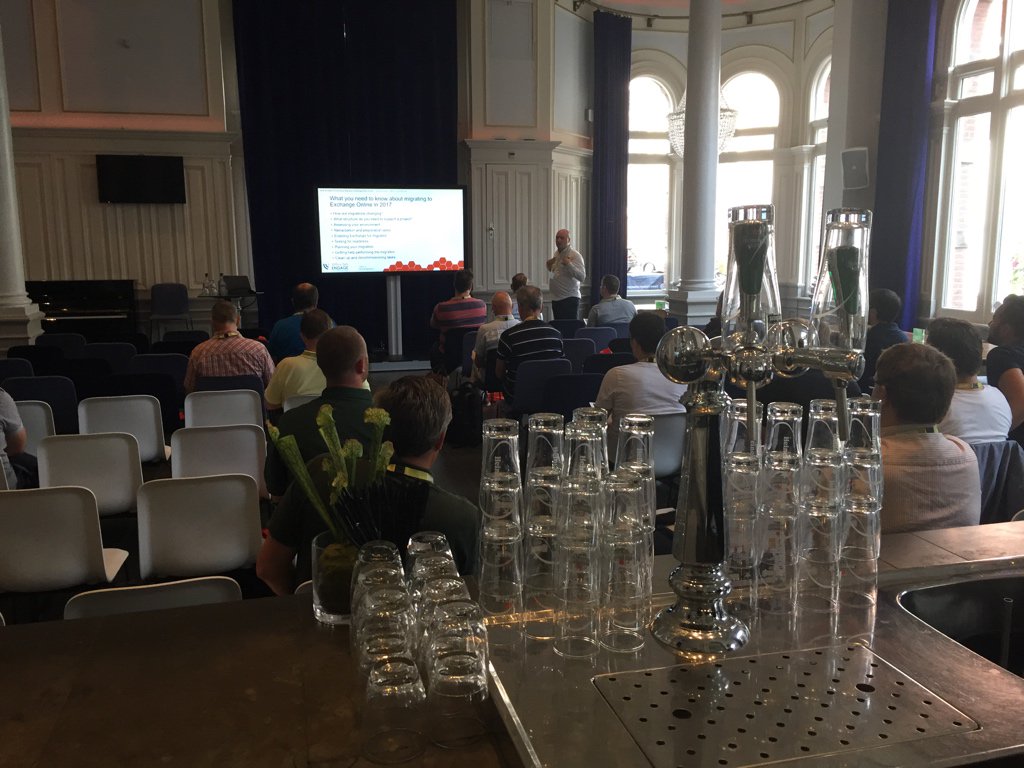 "Room B"
On Monday, Jaap Wesselius and I held a full-day workshop on PowerShell for Office 365. The attendees were coming from all over Europe, which shows that there is a demand for an European event of this size on this topic. On Tuesday, I presented a session on Managing Exchange Online using PowerShell, Tips & Tricks. Pending feedback from evaluations, the workshop and session went very well. For those that attended our workshop on Monday, PowerShell for Office 365, or my session on Tuesday on Exchange Online and PowerShell Tips & Tricks, the slide decks will be made available later through the organizer. Sample code from the session is available from the TechNet Gallery here.

"Room E"
Finally, a big thank you to BWW's Megan Keller, their CEO George Coll, and all the other staff as well, who made speakers and attendees feel welcome at this event, which was small and intimate, a different experience from more massive events like Microsoft Ignite. Also a big thank you to the folks of Quadro-Tech for sponsoring the post-conference drinks.
With everything being walking distance, and with pleasant summer weather, the after-conference hours for catching up with peers and attendees were very enjoyable. BWW was also so kind to offer us speakers a boat trip, where we could experience Haarlem from the waterside, including the obligatory snapshots of windmills, fields and cows.
Note that the organizer is still looking for feedback on the event. Share with them what you like or didn't like, so they can improve next year's conference. I am really looking forward to next year's event, to be held in June 2018, and would highly recommend it to anyone. Hope to see you there next year!